Crispy oven roasted bang bang Brussels sprouts are a deliciously spicy and sweet side dish that's ready to serve in less than an hour. This easy recipe is gluten free and one pot delicious!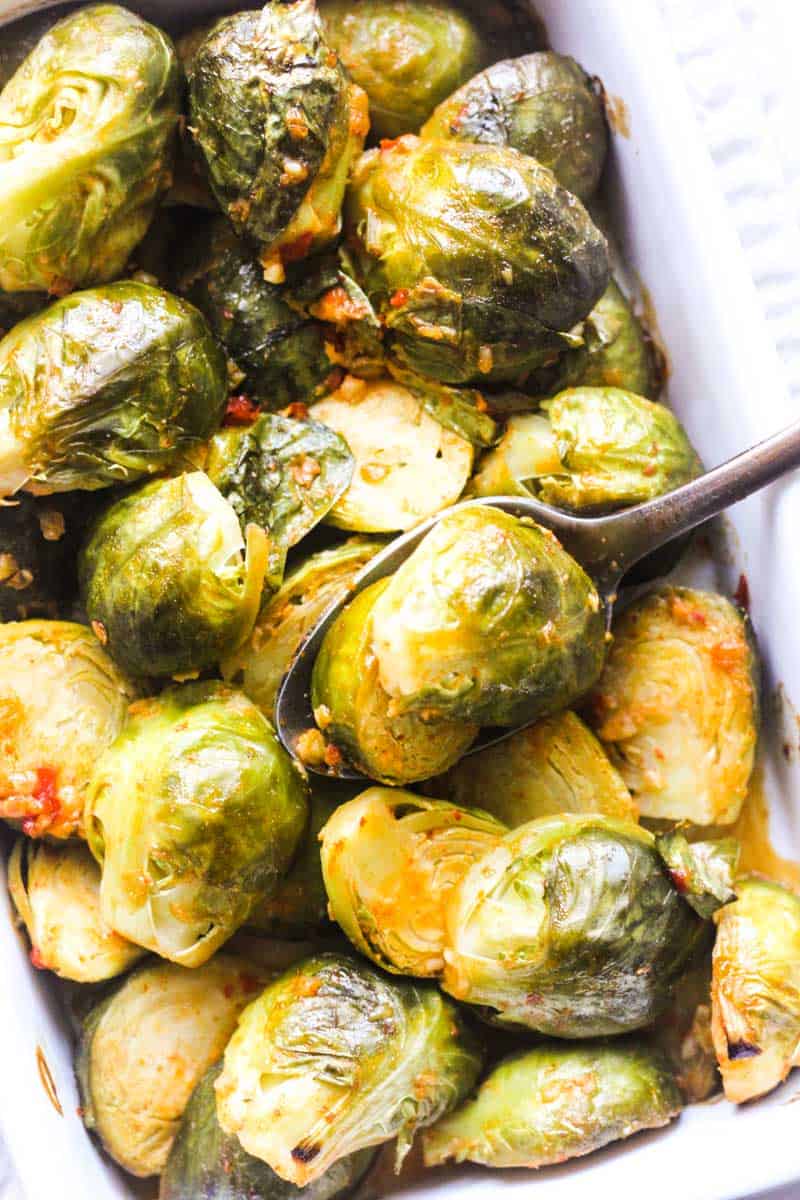 The name bang bang Brussels sprouts really says it all: These tasty little veggies are positively bursting with fiery flavor!
Fresh brussels are coated in a blend of 7 simple ingredients, including both hot pepper and sweet chili sauces. This combination is what gives the dish its big one-two punch of deliciousness. Not too spicy and not too sweet, here is just the right balance of your favorite mouth-watering flavors.
Prep is a breeze and the Brussels sprouts roast in the oven for as little as 30 minutes, until they are perfectly fork-tender and lightly crisp on the outside. So this quick and easy dish is ready to serve alongside your favorite mains in under an hour from start to finish. It's perfect for any night of the week or occasion!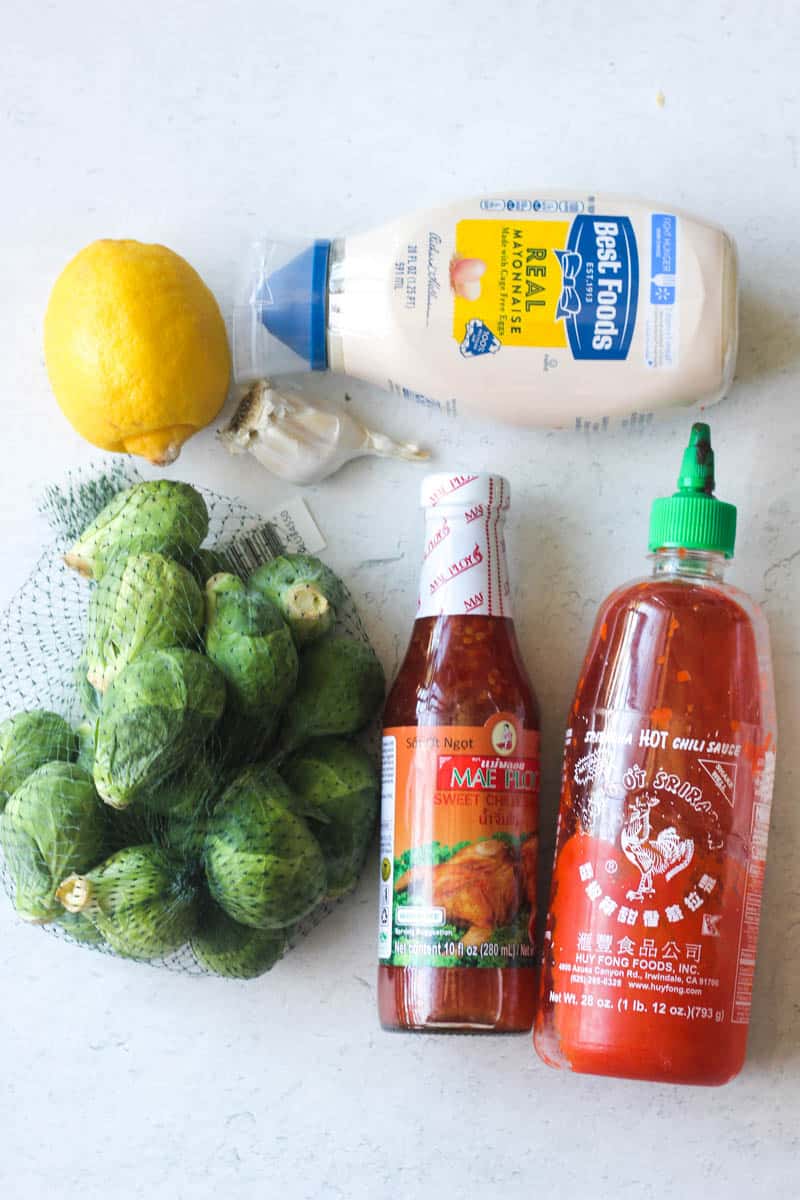 Even those that don't typically rave about sprouts are sure to love this recipe. Bang bang Brussels sprouts happens to be gluten free, low carb, and – because we make them without mayonnaise – are also vegan friendly.
Recipe ingredients
Brussels sprouts. Choose sprouts with firm and unblemished green leaves. The size doesn't matter, but keep in mind that small sprouts will cook much faster than larger ones.
Garlic. Minced garlic bumps up the earthy taste of the Brussels with a great bit of savoriness.
Lemon. Freshly squeeze the lemon juice for the most vibrant flavor.
Sriracha. Classic spicy chili pepper and vinegar sauce that we all know and love for its iconic slow rolling heat.
Thai sweet chili sauce. A thick, sticky sauce that is mostly sweet with just a hint of chili pepper spice.
Olive oil. Or avocado oil, if you prefer. You want an oil that is high heat and neutral tasting.
Mayo. Use your favorite kind of mayonnaise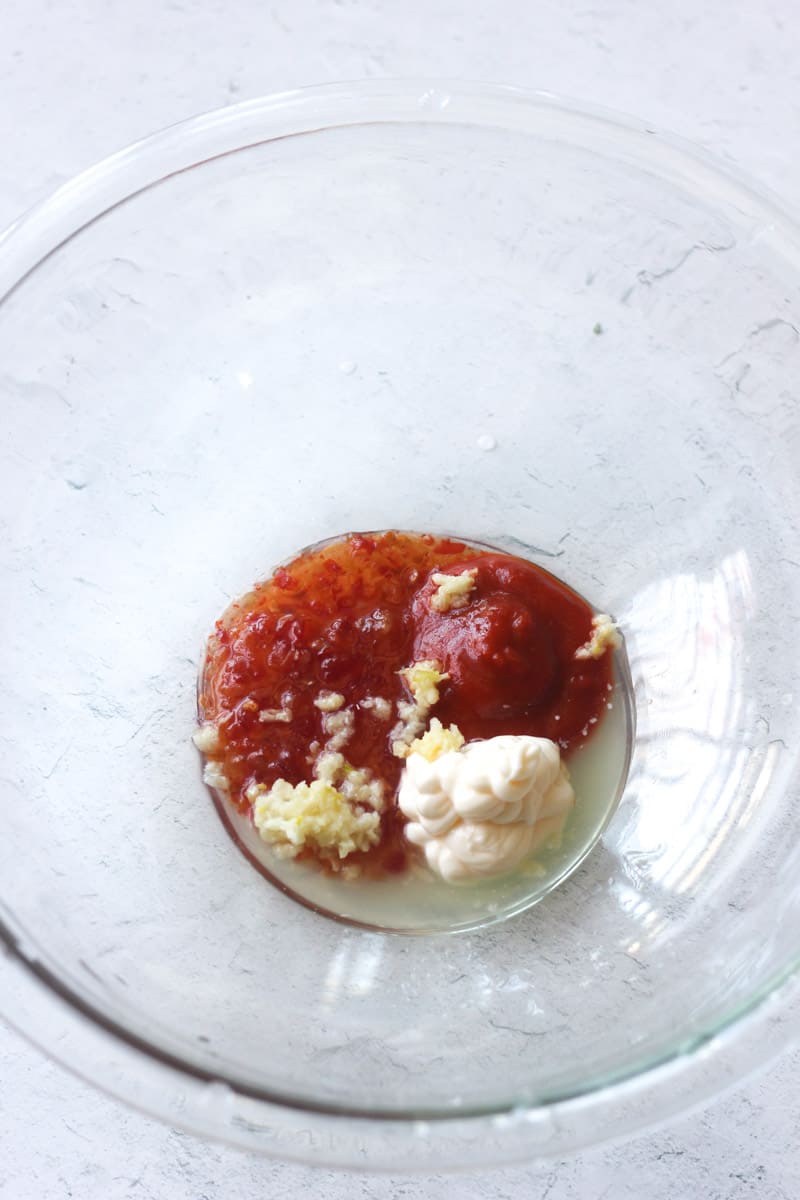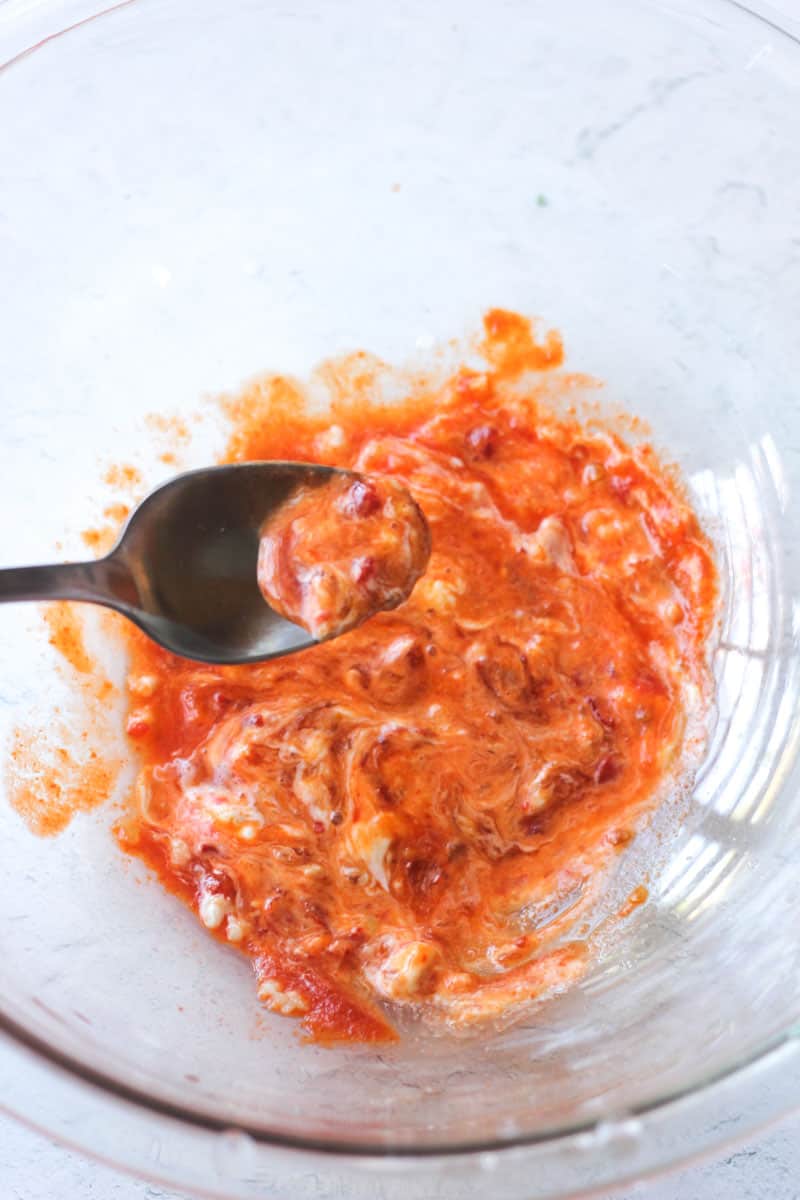 How to make bang bang Brussels sprouts
Preheat your oven to 425 degrees Fahrenheit and prepare a baking dish by lightly greasing it with some oil or lining it with parchment paper for easy cleanup.
Rinse the Brussels sprouts thoroughly under cold water to remove any dirt. Then, trim the ends of the sprouts and cut them in half lengthwise. If there are any yellow or damaged leaves, remove them as well.
In a small mixing bowl, combine the minced garlic, freshly squeezed lime or lemon juice, sriracha, Thai sweet chili sauce, mayo and your choice of olive or avocado oil. Stir well to create a uniform sauce.
Place the halved Brussels sprouts in a large mixing bowl and pour the prepared sauce over them. Toss the sprouts gently with your hands or a pair of tongs until they are evenly coated with the sauce.
Transfer the coated Brussels sprouts to the prepared baking dish, ensuring they are spread out in a single layer for even cooking. If any sauce remains in the mixing bowl, drizzle it over the sprouts.
Roast the Brussels sprouts in the preheated oven for approximately 30 minutes covered with the foil.
Keep a close eye on the Brussels sprouts during the final minutes of cooking to prevent burning. Remove them from the oven as soon as they are tender on the inside.
Allow the roasted Brussels sprouts to cool for a few minutes in the baking dish before serving. Enjoy them as a delicious side dish!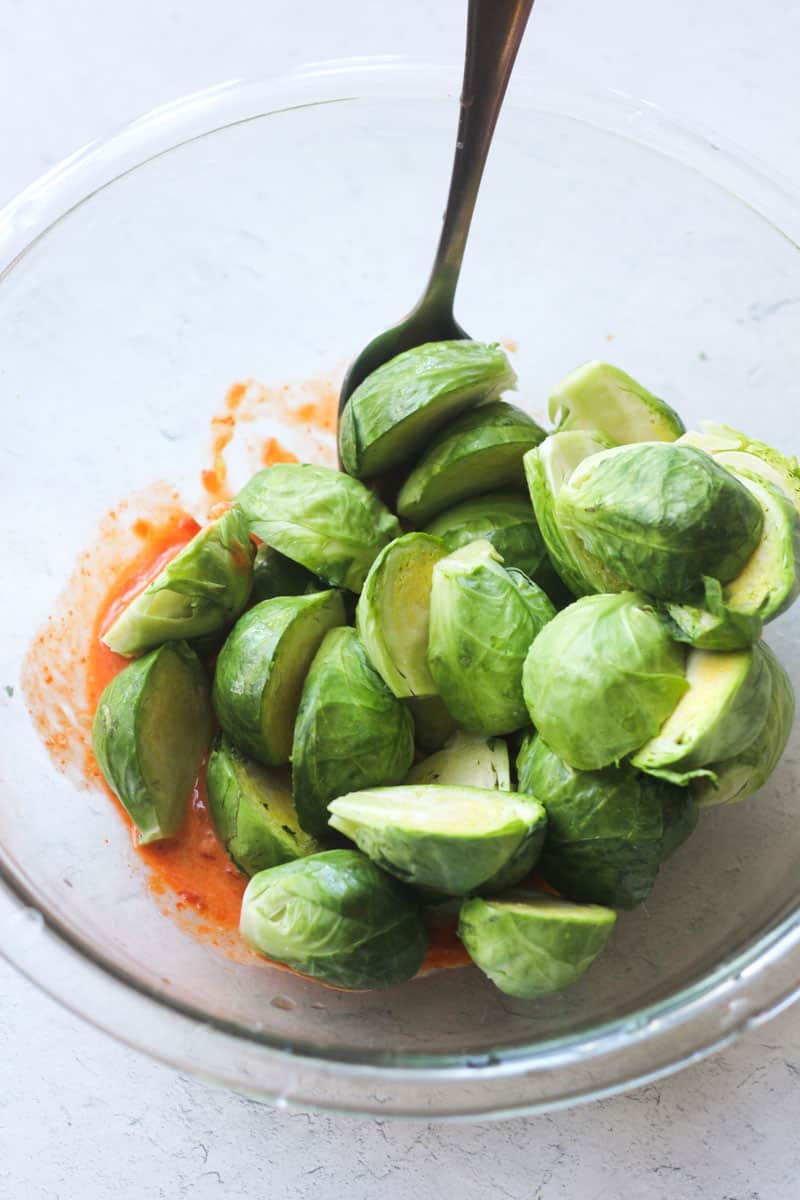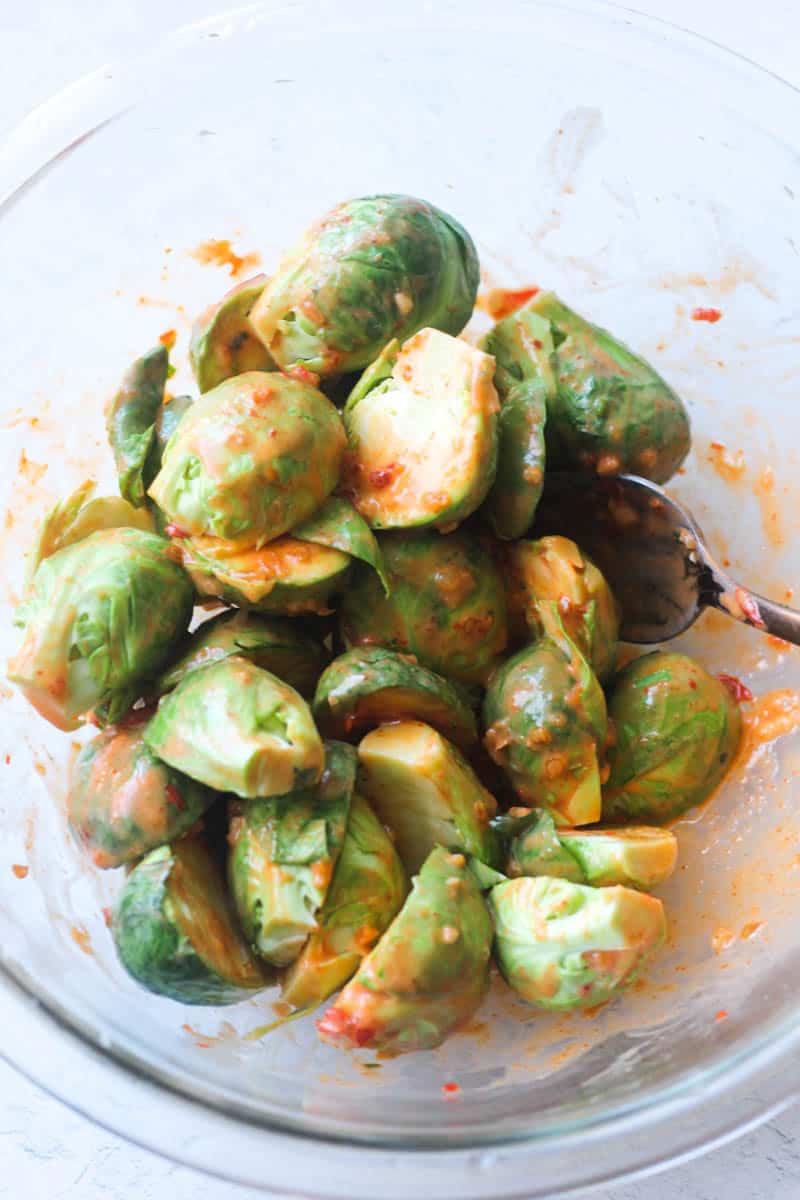 What is bang bang sauce
This beloved sauce is traditionally made with a basic combination of sweet chili sauce, spicy sriracha hot sauce, an acid (like lemon juice or vinegar), and mayonnaise. The result is a bold and tangy blend that is delightful to enjoy with all sorts of proteins and veggies.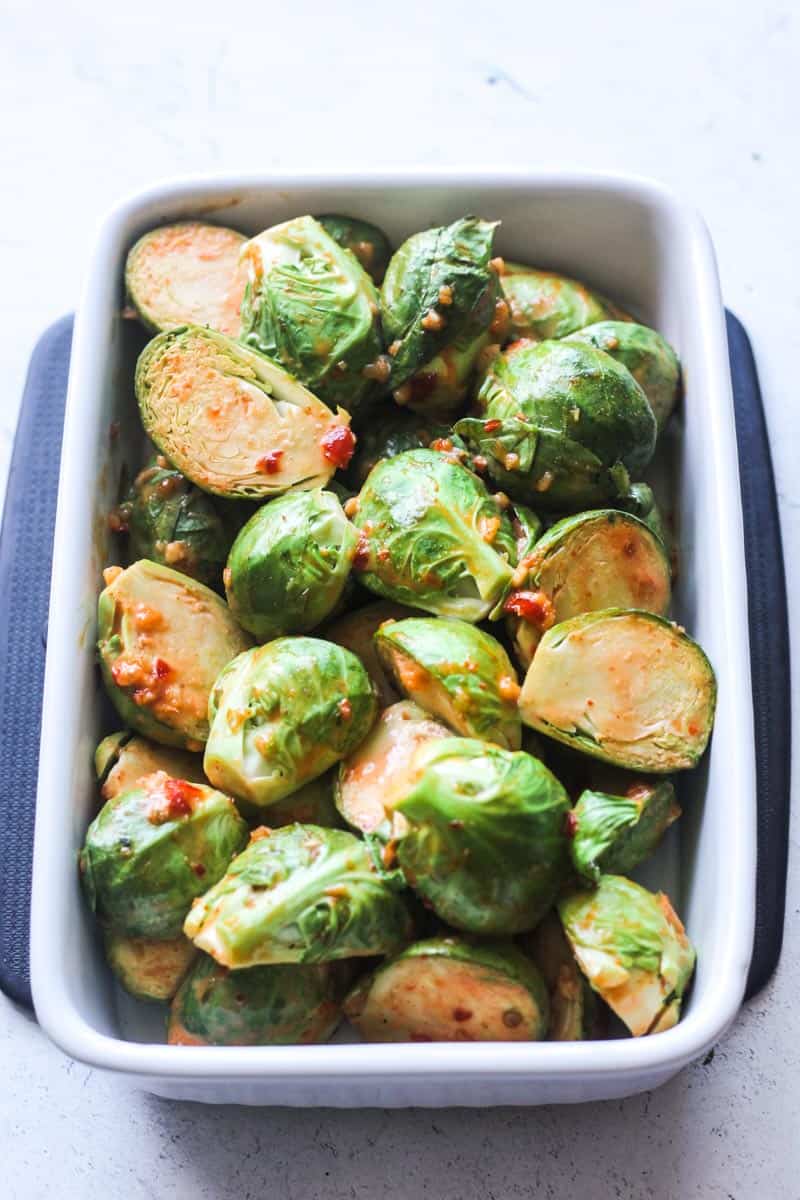 Frequently asked questions
Are Brussels sprouts good for you?
They are a very healthy vegetable. Brussels are loaded with antioxidants and essential nutrients, with lots of health benefits packed into each little sprout.
How do you make bang bang sauce without sriracha?
This recipe is easy to make with other hot sauces, if you like. Gochugjang is a very spicy chili paste that is a good substitute.

Or you can omit the sriracha entirely to make a less spicy sauce for bang bang Brussels sprouts.
Is bang bang sauce the same as yum yum?
No, yum yum and bang bang are very different sauces.

Like a traditional bang bang sauce, yum yum is often made with mayo and an acid, like vinegar or lemon juice. However, yum yum sauce includes tomato paste (or ketchup) and sugar as the sweetener. The result is a more thick and creamy dipping sauce versus this sticky bang bang sauce, which is great to coat foods before cooking.
How are these different from Kung Pao Brussels?
Kung Pao sauce often features both sweet and spicy elements. Common ingredients are sriracha, vinegar or lemon juice, garlic and oil – like bang bang. However, Kung Pao also uses soy sauce and includes honey as the sweetener.
How do you make air fryer bang bang brussel sprouts?
Yes, you can! Cook at 400 degrees Fahrenheit for about 10 minutes, shaking the basket after every two minutes or so. The sprouts are done with the edges are slightly brown and crisp.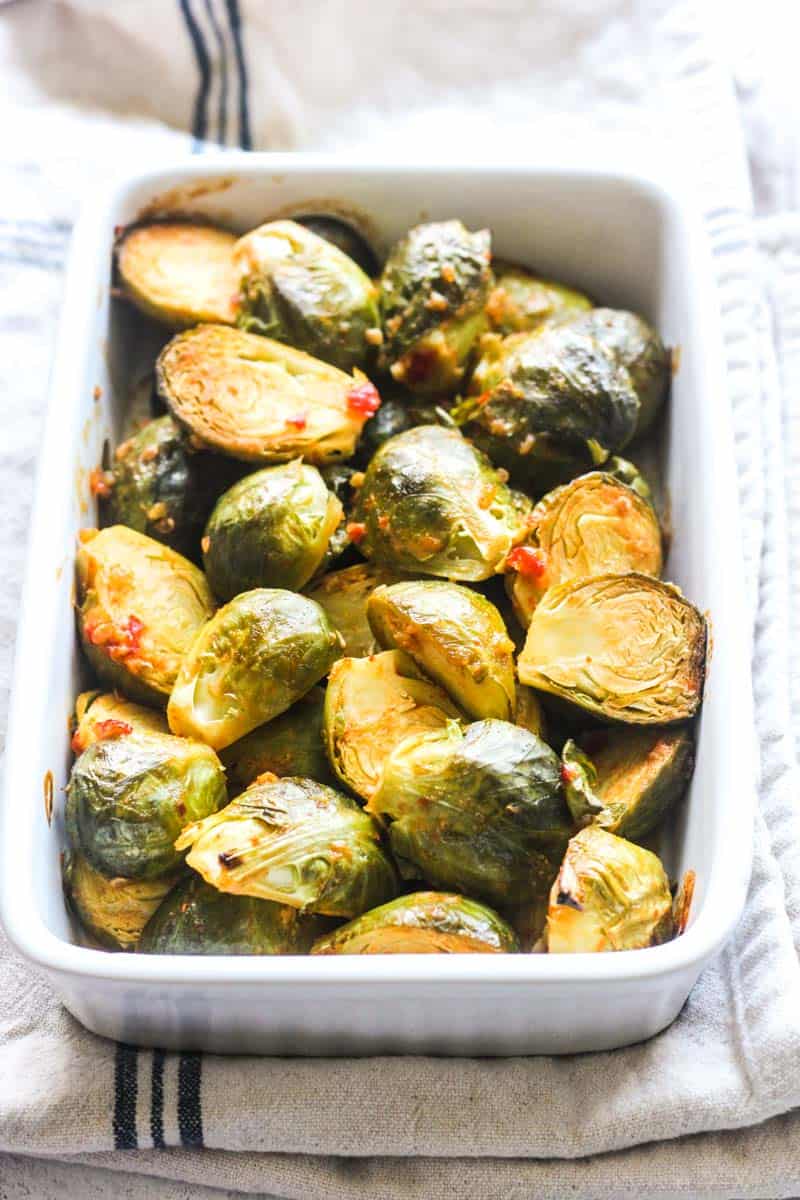 Serving suggestions
Bang bang Brussels sprouts is a great side dish that can be paired with various proteins and other side dishes to create a delicious meal. Here are some suggestions for what to serve with Brussels sprouts:
Roasted or Grilled Meats: Brussels sprouts pair well with roasted or grilled meats, such as chicken, turkey, beef, or pork. Consider serving them alongside a roast chicken, grilled steak, or pork tenderloin.
Fish and Seafood: Brussels sprouts also complement fish and seafood dishes, such as baked or grilled salmon, seared scallops, or shrimp scampi.
Vegetarian Protein: For a vegetarian or vegan meal, serve Brussels sprouts with plant-based protein options like marinated tofu, tempeh, or a hearty bean and grain salad.
Mashed Potatoes: Creamy mashed potatoes or cauliflower mash make a comforting and delicious side dish to serve alongside Brussels sprouts.
Rice: Serve bang bang Brussels sprouts with a flavorful rice or grain pilaf, such as wild rice, quinoa, or barley, for added texture and variety.
Salad: Pair Brussels sprouts with a fresh green salad or a hearty grain-based salad to create a balanced and healthy meal.
Mac and Cheese: For a delicious comfort food combination, serve Brussels sprouts alongside creamy macaroni and cheese.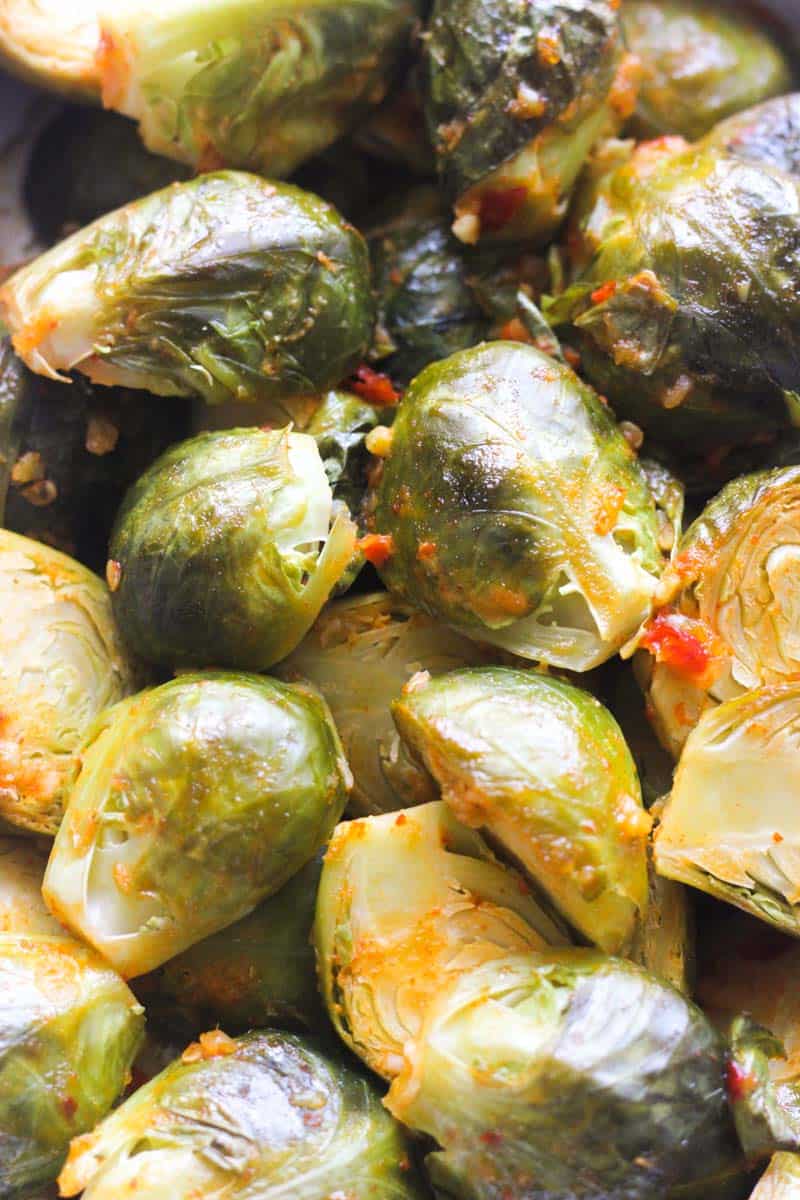 Leftovers
To store bang bang Brussels sprouts leftovers, allow them to cool completely after cooking, then place in an airtight container. Refrigerate for up to 3-4 days. To reheat, warm them in an oven or microwave.
You may also like…
Hope you will like this bang bang Brussels sprouts recipe as much as we do. Rate the recipe if you made it and leave a comment below if you have questions or suggestions.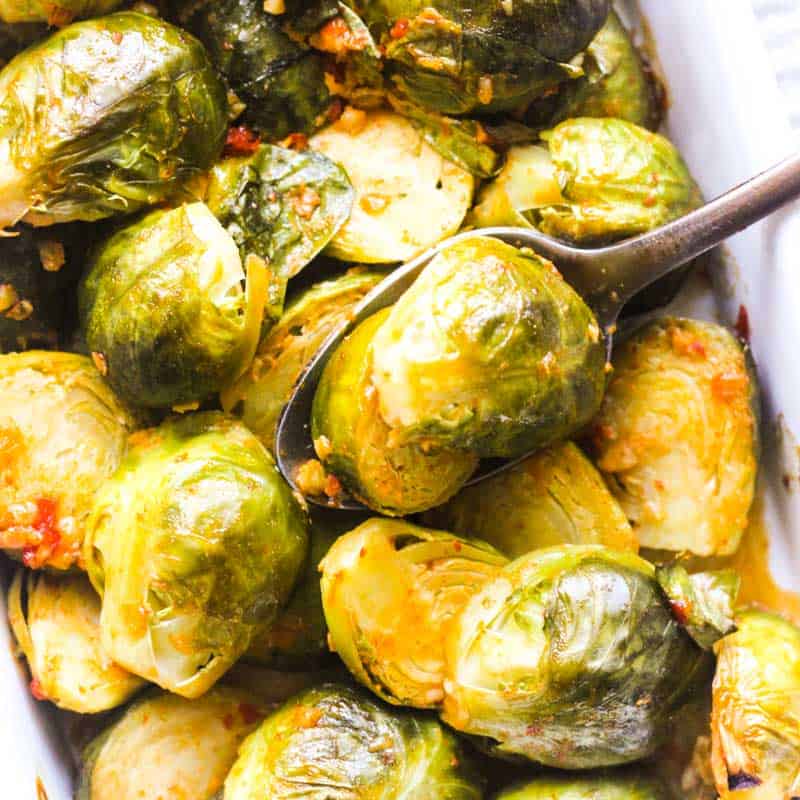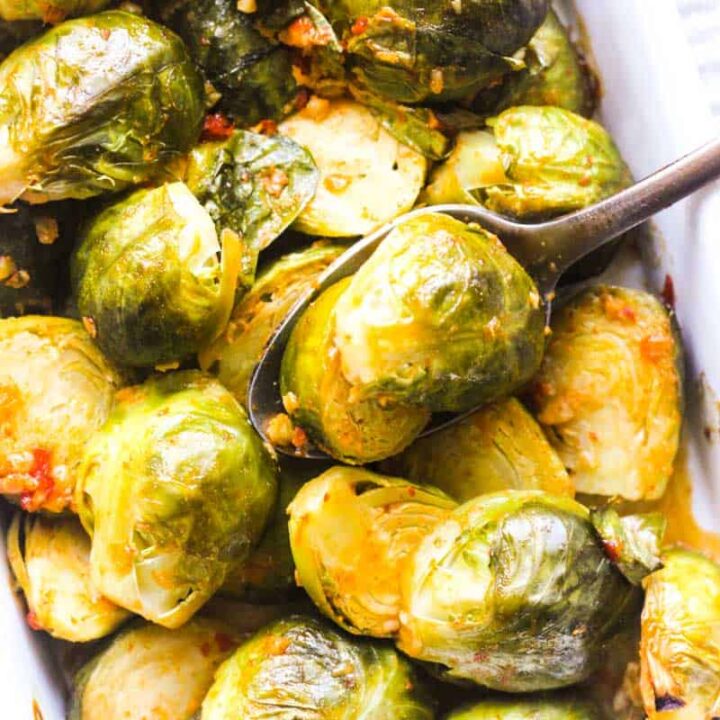 Bang bang Brussels sprouts
Crispy oven roasted bang bang Brussels sprouts are a deliciously spicy and sweet side dish that's ready to serve in less than an hour.
Ingredients
1 lb Brussels sprouts, trimmed and halved
3 garlic cloves, minced
1 lime or ½ lemon, juiced
1 tablespoon sriracha
1 tablespoon Thai sweet chili sauce
2 tablespoon olive or avocado oil
⅓ cup mayo
Instructions
Preheat oven to 425 degrees Fahrenheit.
Mix all the ingredients (except sprouts) in a small bowl.
Toss Brussels sprouts with the sauce and pour in the baking dish. Spread them out evenly on the dish. Cover with foil.
Roast for 30 minutes. Watch not to burn, pull them out as soon as they are soft.
Notes
To store bang bang Brussels sprouts leftovers, allow them to cool completely after cooking, then place in an airtight container. Refrigerate for up to 3-4 days. To reheat, warm them in an oven or microwave.
Nutrition Information:
Yield:

3
Serving Size:

1
Amount Per Serving:
Calories:

297
Total Fat:

24g
Saturated Fat:

4g
Trans Fat:

0g
Unsaturated Fat:

20g
Cholesterol:

10mg
Sodium:

367mg
Carbohydrates:

19g
Fiber:

5g
Sugar:

7g
Protein:

5g